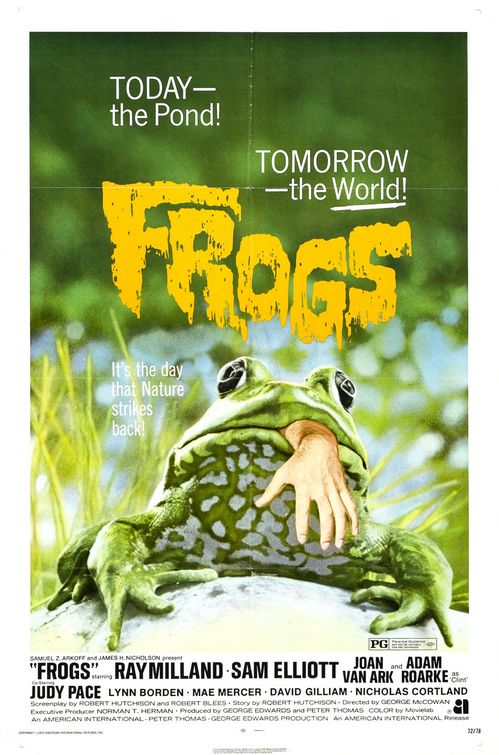 Like
Food Of The Gods
, Frogs deals with nature and what can happen when man screws with nature too much. In this case, instead of giant animals, our killers are frogs, birds, snakes and other reptiles and amph-ibians. It might sound kind of ridiculous, and it definitely is, but the repeated shots of frogs ribbiting and other animals doing their "menacing stare" thing, does get a little creepy after a while. And the reason these animals are so pissed is because Jason Crockett has used tons and tons of pesticides to keep his southern island looking nice.
I actually saw the very end of this movie years ago on AMC and considered it "seen." But, now that I'm working on a few more posts for
Topless Robot
, it popped into my head and I figured I'd give it a good watch. Well, I'll be honest, I missed about 20 minutes of the movie. I saw the beginning where a drunk dude in a speed boat knocked Sam Elliott out of his canoe (though I didn't realize it was him until I looked the movie up on IMDb). It also took me two days and three viewings to watch it because I kept getting tired or wasn't really paying attention and wanted to and it really is just a strange movie. It's fun in the same way that Food Of The Gods or Squirm is, but the kills definitely get a bit silly at times (a Kimodo dragon or something knocks off several bottles in a green house, which mix to form a gas cloud that kills a guy). Also, the end is very reminiscent of The Birds, which makes sense the more I think about it. But, really, it's just fun to watch Sam Elliott be awesome. I've never seen him this young in a movie, as Big Lebowski, Ghost Rider, We Were Soldiers, Golden Compass and the amazing Road House are the only flicks I've seen him in. What other Sam Elliott movies should I check out? Help me get my Netflix queues back up to 300!
[post does not go on]